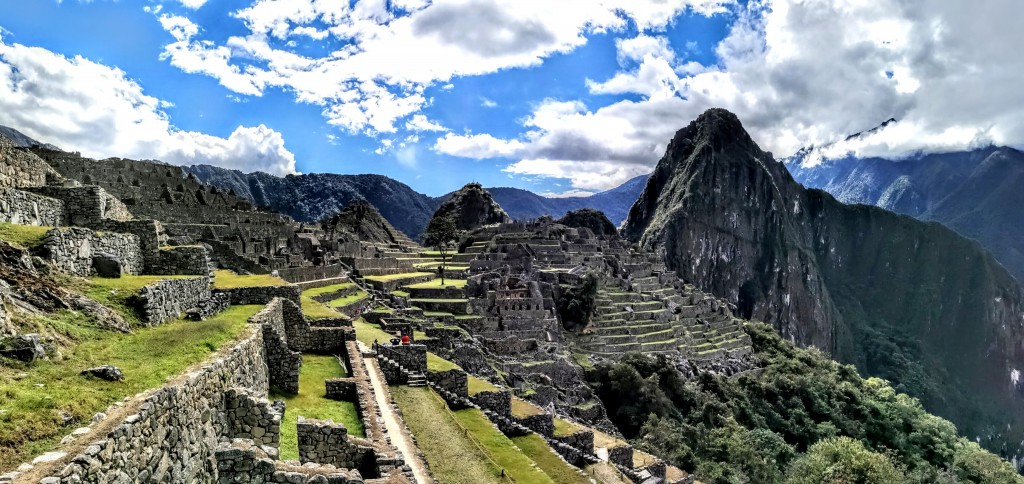 Having just returned from Peru, my wife and I learned a lot of lessons and picked up some tips while we were there that I thought I'd share with you.
Altitude sickness is a real thing. For some people it is just a mild headache. For others, they have to lay in bed for at least a day. My wife and I were just fine the first day. Drink a LOT of water. And I mean bottles and bottles of it. This helped a lot. I took an ibuprofen and was fine. Someone on one of our tours had to leave their travel companion at the hotel because she felt so bad. Hotels also offer oxygen tanks if you need it.
Bring wet wipes and toilet paper to use in bathrooms. Most Central and South American countries don't throw toilet paper in the toilet.
At Machu Picchu, if you are planning on not using a guide, reconsider this. We were planning on not using a guide the second day, but one approached us and was able to get us to the front of the very long bus line and the very long park entrance line with very little wait. He spoke very very good English and was very informative. He gave details and information on things we would have definitely missed. Choose your guide wisely though. A couple that arrived at the same time as us picked the first guide they saw and I overheard him trying to explain the ruins and he just didn't know the words and admitted that he didn't know the English words. While I wish my Spanish was better to speak in their native tongue, you can't fault the guide for just trying to make some money.
Peru's voltage runs at 220v. For most phones and tablets, you can charge directly on their grid. For things like laptops, curling irons, or anything else, you'll need to check the voltage or just use a voltage converter. This is NOT a simple power/plug adapter.
While shopping at markets, feel free to offer slightly lower prices and haggle. My wife was able to get some souvenirs for 10 Soles cheaper by just offering the deal. In Aguas Calientes, the town nearest Machu Picchu, there is a HUGE market there. Get lost and see what you can find and make some deals. It's just outside the train station gate.
Splurge for the Vistaview Peru Rail train into Aguas Calientes. The scenery is amazing and beautiful. They also explain things you'll be seeing in both Spanish and English as well as announce train stops. There is sometimes entertainment. Our train leaving Aguas Calientes had a person dressed as a demon that danced through our car.
If you can help it, don't check your luggage. My luggage was lost for our entire trip and I got it back only at the end of it. Since we were in Cusco briefly and left to goto Aguas Calientes, there was no way to get my luggage to me quick enough so our hotel held it for us with the help of our amazing travel agency. I ended up buying some nice alpaca sweaters and tourist shirts, but I had bought an entire new wardrobe for our trip that I didn't even get to wear. It turned out that I didn't need as many clothes as I originally packed anyway. Which leads me to my second point….
Don't bring as many clothes are you think you need. Leave some room for souvenirs. And if you need to you can have your laundry done at your hotel for pretty cheap. I had all of my clothes washed and folded for $25. That probably saved me $50 in clothes.
You'll find alpaca clothes literally everywhere. Most in the cheaper markets are what they call "maybe" alpaca and not "baby alpaca". Meaning, it might be baby alpaca fiber but is most likely mixed with synthetic material. We bought both maybe and baby alpaca sweaters. And to be honest, I love my "maybe" alpaca sweater the most. Baby Alpaca fiber is cool to the touch and ever very soft. Train yourself once you see real alpaca fiber, and if this is something you want to chop for, make sure it's authentic first. Most street markets don't sell real, 100% alpaca fiber clothes.
If you are in the town square of Cusco, and you are dressed like a tourist, expect to be asked to buy things literally every 5 seconds. From local artwork, to jewelry, to shoe shines, to asking to eat in various alleyway restaurants, etc etc. We actually did buy some artwork from several people that we really liked. Having said that, when we sat on a bench in the city center of Cusco, we were swarmed with people asking us to buy things. While we were trying to explain that we just wanted to sit and enjoy the view or that we just didn't have anymore Soles (which was true), someone stole my wife's phone that she had sat down beside her on the bench for a second. So just take care. The crime is very low in most places and we never once felt in danger or threatened. This was just a poor souls opportunity to take something they though might be able to make them some extra money.
Speaking of restaurants, there are several in the Cusco town square that have fantastic rooftop views of the city. Look around at a few before settling and make sure you have a great view. We ate at two different ones, both with great views.
Some hotels have all kinds of perks and amenities that aren't listed on their website. One of our hotels have baby alpacas on the property that you were able to feed bottles to for free three times a day.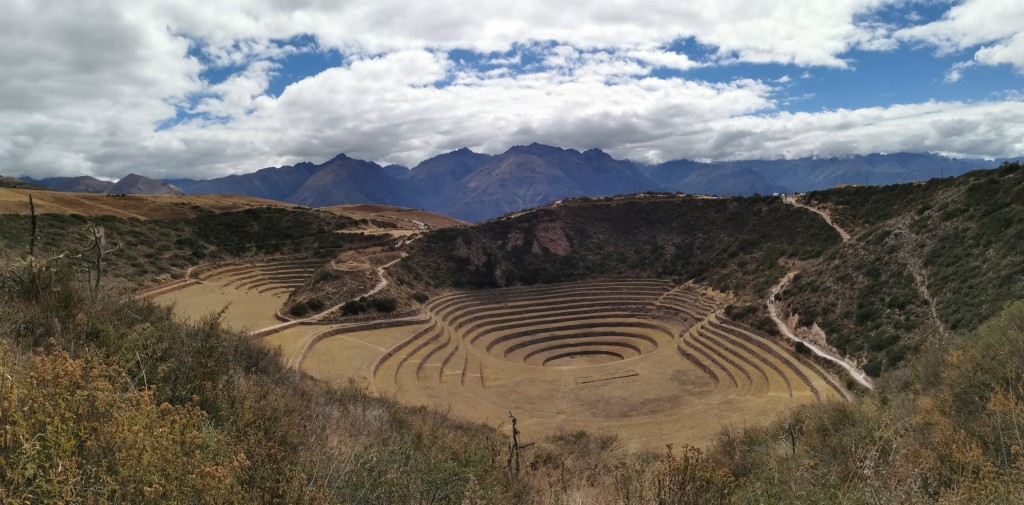 Things were very different from any other time in Peru because of COVID restrictions. Peru has taken COVID very serious as of lately and enforces masks everywhere. Here are some of the things that you'll need to know:
Before entering the country, you must have a negative COVID test. This can NOT be a rapid test and should be a PCR test. You'll need this to be 72 hours before your departure and you will be asked to show proof multiple times both in the US and in Peru.
Before leaving Peru you will need a negative COVID test. They have their own test that they do and the results will only take 15 minutes.
On the flight into Peru and out of Peru, you will have to wear two face masks. If you remove those during your flight, you will be met by police when you land. Most flights give three warnings and announce this over the speakers several times. When we landed in Atlanta from Lima, Peru, a gentleman was met by police after being warned three times and then having an altercation with a flight attendant over wearing his mask.
While in Peru, expect for everyone to be wearing masks at all times. For most buildings, before you enter into the building, your temperature will be taken.
For trains and buses, your temperature will sometimes be taken, but at all times, you must wear two masks and a face shield. If you don't have a face shield, you'll need one for other occasions as well. We went to the Regional History Museum and Cusco and had to wear one as well as two masks for the entire visit.
Hand sanitizer is literally everywhere. Use it anytime you see it.
If you're visiting Machu Picchu, taking your masks off there is strictly forbidden, though, most guides will work with you to try to time face masks removal for photos. If you are seen by one of the many MANY guards around the park, you'll be yelled at and told " if you please, put your mask back on". The second day where were there, all we heard was "POR FAVOR!" being yelled everywhere along with a whistle or hand bell ringing. So just take care here. If they warn you a few times and you ignore them, you'll be asked to leave.
While ordering food, keep your mask on. When your food comes, you can remove your mask, but if you aren't eating or are finished eating, put it back on.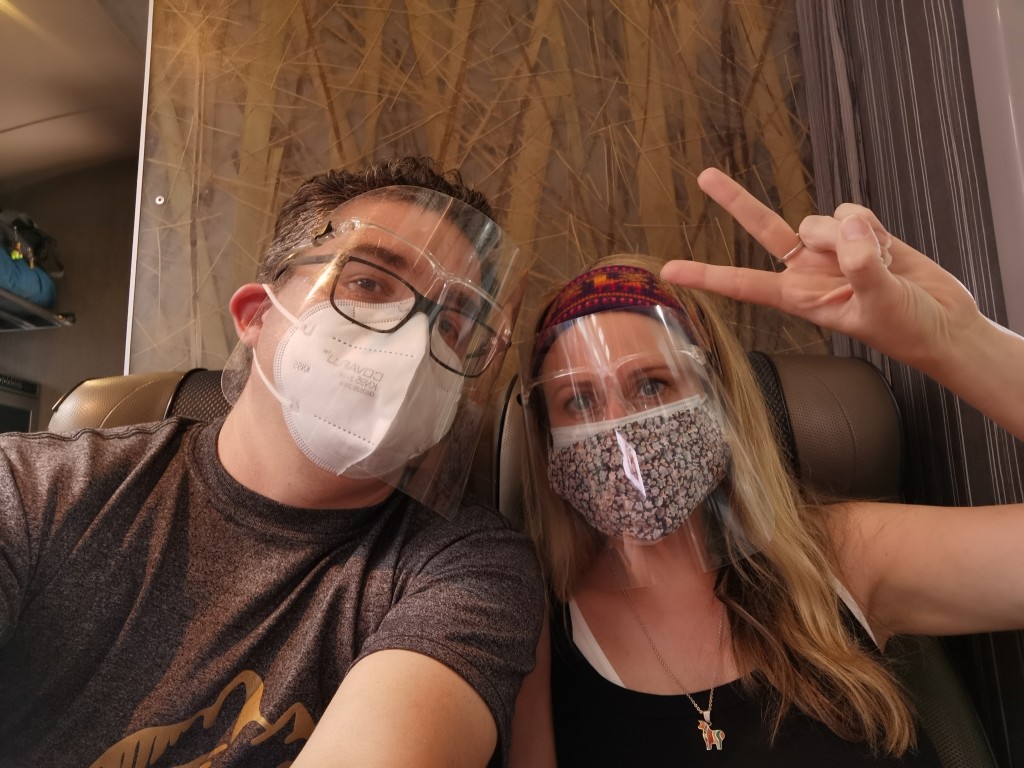 We loved Peru and will definitely be going back. There is so much to see. The food is so good. The people were very very nice.
Feel free to contact me with any questions.