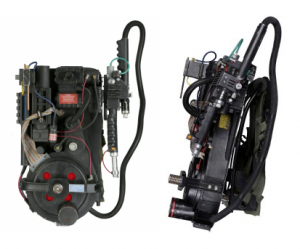 My home office has become a bit of a shrine to movies, music, and general things that I love.
I've got props from Star Wars that I've made or bought. Lightsabers, figures, and small X-wings and Tie fighters. A large model of the Millennium Falcon and a Darth Vader Helmet.
I've got a real metal reproduction of the catspaw dagger that killed the Night King from Game of Thrones along with some really nice custom artwork that I had printed for the display.
I have parts of the screen used Delorean from back to the Future (part of a Kickstarter I helped fund to restore the car). I have replica props from the Indiana Jones films. An arcade machine that I built a few years ago. I've got a Disney monorail system that goes around the ceiling of my office as well.
There are a few things missing from my office that I think about a lot and have always wanted to make.
Since I was a kid, I have always wanted a "real" proton pack. I used to walk around with this suitcase that I had with backpack straps on it and put a garden hose out of the side of it….pretending that I was Spangler or Venkman battling Zuul and Gozer.
As far as movie props go, the Proton Pack is one of the most iconic pieces of equipment in all sci-fi movies.
Research & 3D Print Files
To start out, I began reading everything I could on other pack builds and ways of constructing them. And there are A LOT of blog post and forums about the subject, with GBFans being one of the best resources. I've seen proton pack builds where people carved everything out of insulation foam. I've seen wood builds that must weigh a ton!
Then there are people that take the easy way out and just buy pre-fabricated shells and dress them up. To be honest, I don't blame them at all for doing that because what I've realized is this is a time consuming project for almost everything. I've read several blog post that concluded "this took way more time that I was expecting". So give yourself a lot of time. Don't rush it either because you're gonna want this to look awesome and be something you can display in your home.
Something else that you'll find a lot of is that people are buying these "Spirit" brand Proton Packs and simply upgrading them with parts. The issue here is that the Spirit packs are only 80% in size and don't have all of the real things like the ribbon cable or full sounds and things. But I want as real as possible so I'm not interested in them at all.
Since I want to 3D print my proton pack, I started looking through all of the different proton pack designs and files that are on Thingiverse.com. One thing that I noticed, but not after I had already printed some parts, was that there are a lot of proton pack designs that have been reduced by 10% or so for kids or for smaller framed people. They aren't full size designs, so stay away from them!
I ended up settling on a design by DancinFool82: https://www.thingiverse.com/thing:1128019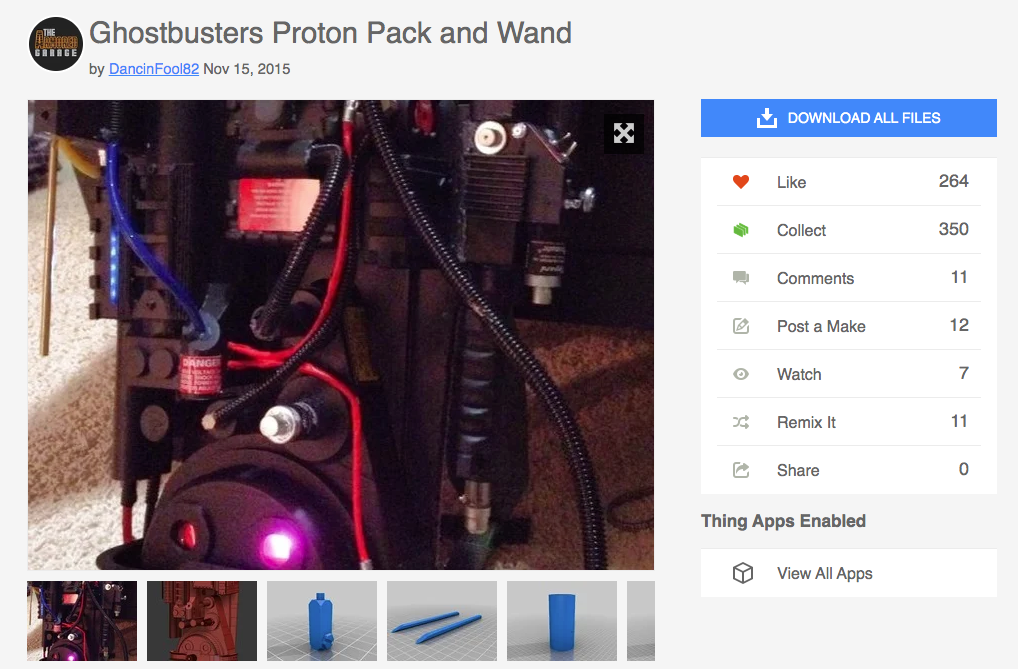 He does all kinds of cosplay designs and prints, some of which are incredible. Overall, he had the most parts that I could print on my smaller 3D printer and I liked some of the details in his design. But before I start printing parts, I decided to contact him via his Facebook page and make sure it was a full size design. He quickly wrote me back and confirmed that it is a 100% full size proton pack design. So here we go, I found my design!
Proton Pack Parts
The proton pack is actually very intricate and composed of lots of different parts. It was designed to look cobbled together and homemade, or at least made by someone that knew what they were doing. I started learning the "lingo", if you will, and thought about how I wanted to approach my build.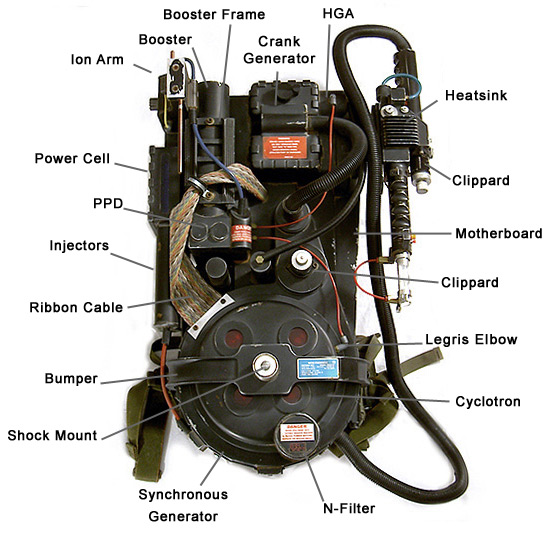 It wasn't long before I realized in all of my research that the proton pack from the first Ghostbusters Film and the second one are different. The image posted above is actually a GBII (Ghostbusters 2) Proton Pack. You can tell this pretty easily by looking at the ribbon cable and the crank generator.
The ribbon cable on the original GBI Proton Pack is made up of some rainbow colored cables, some grey cables, and appears to be custom made as no one has been able to locate an original one. The GBII Proton Packs have an all rainbow colored ribbon cable.
After looking at Ribbon Cable suppliers and comparing the cost of the two, it was surprising that almost no one supplies ribbon cables that look like the first GBI Proton Pack. I only found one source and they are selling them for $50+ and the cable is only 30 inches long. Right now, I can't justify spending that kind of money on it. So for now, I'm going with the GBII style Ribbon cable called a Spectra model #132-2801-060. Here is a page all about these ribbon cables: https://www.gbfans.com/equipment/proton-pack/ribbon-cable/
The Crank Generator Knob on the GBI Proton Packs are grey, while the GBII Generator Knobs are black. Here is a good page about the knob: https://www.gbfans.com/equipment/proton-pack/crank-knob/ There are actually a lot of people selling resin cast knobs for way to much just to cater to the GB Fans that are building their Proton Packs. But, you can find several distributors selling the real deal part online and on Ebay. I would caution you to look for parts that aren't marketed towards Proton Packs or GBFans and you can probably find them for cheaper.
Aside from those differences, most visible differences aren't apparent and most people won't notice.
What I'm planning on building is a hybrid Proton Pack with a GBI crank and a GBII Ribbon Cable. Eventually I'll try to upgrade my ribbon cable to make a GBI pack but, as I said before, I can't justify the $50 that is being charged for it. I'll probably feel differently once I get the pack done.
HUGE Parts
In terms of 3D printer beds, the Proton Pack files are huge. I know a lot of people that print and have all kinds of sizes of printers, but not as big as some of these parts. There are particular parts of this build that I've seen sliced up different ways; mainly the Cyclotron (round part at the base of the pack), so they can be printed on smaller printer beds.
Since I have a smaller printer (Monoprice Mini and an Ender 3 Pro V2) and these parts are already huge, I decided it was worth my time and money to send off these prints to be printed completely in one piece instead of printing them individually and in pieces, then gluing them together. I went with the website TreatStock to find a printer since they have reviews and a lot to choose from. When you load in the prints, it will try to find fabricators that have printers large enough for your parts. Some of these parts are so large that there were only a handful of people that could print them in the country.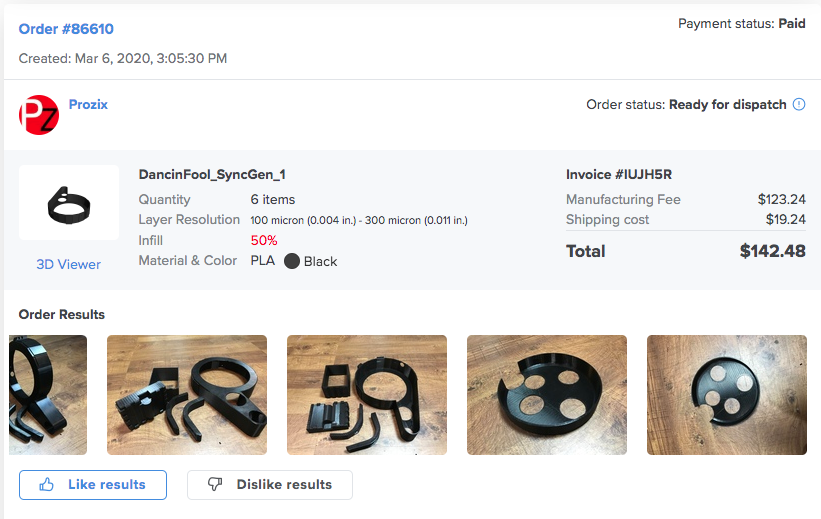 I found that these parts were more sturdy, smoother, and generally better quality than I could produce if they were glued together. I had them print the entire Cyclotron, the Crank Generator Case, the arms for the bumper, the wand grips, the wand "gunbox", the ion arm, the boosters and the power cell box. This might seem like a lot of parts to have printed for me, but I assure you, there are MANY more parts that I'm printing myself.
The Motherboard
As with a computer, the motherboard of the Proton Pack is what everything connects to that makes it run. There are blog post where I've seen people make these motherboards out of old aluminum signs, wood, particle board, plywood, MDF board, and even cardboard.
I'm on the fence with this one and stuck between cutting this out of sheet aluminum, or MDF board. I feel like aluminum would be more realistic (the originals used it) but also harder to work with. I already have MDF board from my arcade machine build, but it would also be heavier.
The first thing I needed was a template though. This was harder to find than I thought it would be.
I found this PDF of a template for the motherboard posted by Bextia on GBFans. I've printed it out and the upper left corner of the template seems misaligned or not correct. That particular page didn't fit the rest of the template once I cut it all out.
So after reading a lot of blog post on this subject, I've made the decision to get all of the parts printed, fasten them together, trace them, and then cut my motherboard from a sheet of wood. Almost everyone that makes the motherboard first or orders one has issues with their parts not fitting right or being misaligned. Later on I may go back and have a metal one laser cut for me.
I'll stop here for part 1.